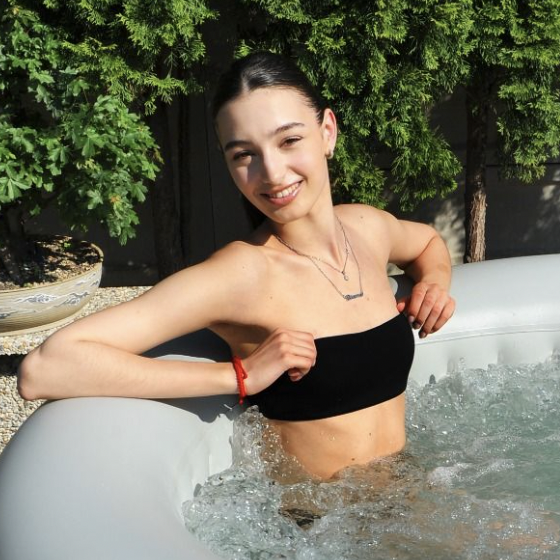 Užite si svoj dvor alebo záhradu od jari až do jesene. Mobilnú nafukovaciu vírivku môžete umiestniť takmer kdekoľvek. Dokáže nahradiť bazén aj hydromasážnu vaňu. Nafukovacie vírivky u nás kúpite za bezkonkurenčné ceny a oceníte aj ich mobilitu.
Na jeseň môžete vírivku premiestniť napríklad do garáže a používať ju tam, alebo si v zimnej záhrade vytvoriť vlastné wellness centrum. Predstavivosti sa medze nekladú. Vírivky BeneoSpa majú nafukovaciu a zároveň veľmi odolnú konštrukciu. Ľahko sa inštalujú a sú rýchle, pretože sa samy nafúknu do pár minút. Vodu potom jednoducho napustíte záhradnou hadicou.

K vírivke si môžete dokúpiť aj potrebné príslušenstvo na údržbu a rôzne doplnkové príslušenstvo ako napr. držiaky na poháre, opierka hlavy a mnoho ďalšieho. Stačí si vybrať program podľa vlastných predstáv a relaxovať v nafukovacej vírivke.
Efekt tryskovej masáže vo vírivke v kombinácii s terapeutickými vlastnosťami horúcej vody je momentom, ktorý nechcete aby skončil. Je to naozaj príjemná vec. Naša vírivka je skvelým miestom, či už ste sami alebo na návšteve, a v neposlednom rade je to ideálne miesto na oddych a relax s rodinou. Akonáhle začnete vírivku používať, zistíte, že najlepším výsledkom ich používania je dokonalý relax a výborné vyčistenie hlavy od zbytočných myšlienok.

Vezmite si napríklad dovolenku na svojom dvore s rodinou – výborne sa zblížite. Budete lepšie spať, budete sa cítiť lepšie a áno, ukázalo sa, že vírivky tiež oživujú pozitívne myslenie, ktoré sa niekedy stráca v zhone dnešného životného štýlu.
Vírivka lieči telo, myseľ a ducha. Pri každom použití vírivky dochádza k rýchlemu prechodu zo stresu do stavu pokojnej blaženosti. Vyberte si z našej širokej ponuky.