Detské Licencované odrážadlo a kufrík 2v1 Mercedes-Benz Ener-G-Force červené
Technické údaje:
Materiál: PP
Čistá hmotnosť: 3,4 kg
Veľkosť: 56 x 29 x 24 (dxšxv)
Hmotnosť do 20 kg.
Pôvodná cena
77 €
Special Price
67 €
Doba doručenia: 1 - 2 Pracovné dni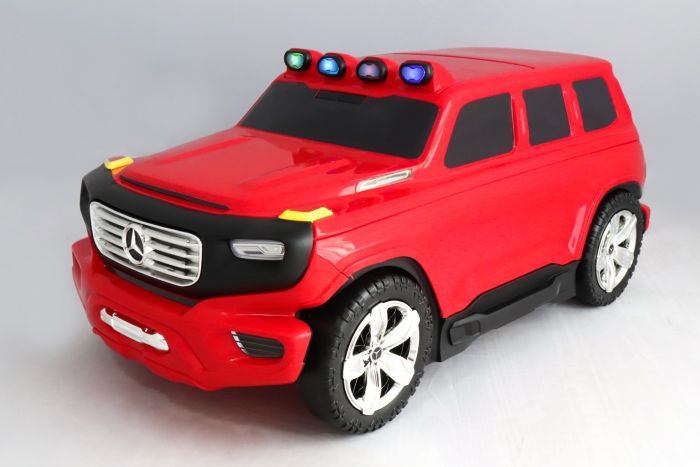 Kliknite na obrazok pre zväčšenie

Tovar môžete do 14 dní vrátiť
Licencované odrážadlo/kufrík Mercedes-Benz Ener-G-Force
Detské odrážadlo a kufrík 2v1 Mercedes-Benz Ener-G-Force je úžasná kombinácia zábavy a praktickosti, zabalená v elegantnom licencovanom dizajne luxusného auta od značky Mercedes-Benz v dvojfarebnej kombinácii.
Kufrík sa otvára po zatlačení na prednú mriežku a môže slúžiť na uloženie hračiek, oblečenia a ďalších vecí dôležitých pre vaše dieťa, ktoré sa tak zábavnou formou učí udržiavať poriadok. Pevná hliníková vysúvacia rukoväť umožňuje pohodlné prevážanie.
Pre funkciu jazdného vozidla stačí zasunúť rukoväť a zo strechy vysunúť držadlo. Po nasadnutí sa dieťa môže odrážať a pohybovať v priamom smere. Maximálna nosnosť je 20 kg. Mercedes-Benz Ener-G-Force 2v1 je ideálnym spoločníkom pri cestovaní s deťmi, kedy slúži zároveň ako zábavná hračka aj štýlová batožina.
Priestor batožiny je rozdelený látkovou prepážkou a obsahuje sieťovanú kapsu. Väčšina leteckých spoločností batožinu tohto rozmeru akceptuje ako príručnú batožinu.
Splňte sny každého dieťaťa s touto multifunkčnou licencovanou hračkou značky Mercedes-Benz Ener-G-Force!

O produkte:

Naše úplne nové detské cestovné odrážadlo/kufrík na vozenie sa a prepravu rôzneho sortimentu, navrhnuté v realistickom tvare 3D auta. Ide o multifunkčné odrážadlo kombinované s funkciou cestovnej a úložnej príručnej batožiny, ktoré je ideálne na dovolenku, víkendové presuny a hranie sa doma, ako aj na každodenné použitie a všeobecné skladovanie s mimoriadne veľkou kapacitou pre hračky, hry a oblečenie. Deti si môžu zabaliť všetky svoje obľúbené veci. Rodičia aj deti môžu pohodlne manipulovať s kufríkom pomocou odolnej teleskopickej rukoväti. Puzdro je vyrobené z odolného a ľahkého plastu, aký sa používa vo väčšine prípadov aj pri výrobe vysokokvalitných cestovných kufrov, čo zaručuje jeho trvanlivosť a odolnosť.

Je to praktické, je to atraktívne, je to všetko, čo si dieťa môže priať!
Vlastnosti:
Plne funkčné svietiace vrchné svetlá.
Interiér je vybavený priečnym upevňovacím pásom, vďaka ktorému je puzdro odolné.
Kufor slúži taktiež ako odrážadlo s ktorým vie dieta jazdiť po štyroch kolesách.
Odolný plastový obal, odľahčený materiál, vodeodolný.
Unikátny dizajn, luxusný tvar, dizajn elegantného terénného vozidla.
Ideálne pre cestovanie aj ako príručná batožina do paluby lietadla.
4 funkčné kolesá, vysoká nosnosť.
Interiér má skríženú fixačnú pásku a sieťové vrecko.
Pohodlné a odolné dvojité teleskopické rukoväte.
2 zvyslé kolieska k ťahaniu za rukoväťou vo forme cestovného kufra.
Dostatok úložného priestoru pre hračky a oblečenie.
Vhodné na každodenné použitie.
Licencované!
More Information

| | |
| --- | --- |
| Rozmery - výška (cm) | 24 |
| Rozmery - šírka (cm) | 29 |
| Rozmery - dĺžka (cm) | 56 |
| Rozmery balenia - výška (cm) | 26 |
| Rozmery balenia - šírka (cm) | 31 |
| Rozmery balenia - dĺžka (cm) | 57 |
| Nosnosť: max | 20,00 Kg |
| Nosnosť: max | 20 |
| Max. testovaná nosnosť | 25 |
| Spracovanie karosérie | Plastové |
| Sedadlá | 1 |
| Typ kolies | Plastové |
| Predné svetlá | Áno |
| Manuál | Áno |
| Priemer kolesa (cm) | 10 |
Poznámka: Hračka spĺňa smernice Európskeho parlamentu a Rady 2009/48/ES z 18. júna 2009 o bezpečnosti hračiek a všetky bezpečnostné normy. Samozrejmosťou je vyhlásenie o zhode CE. Technické špecifikácie sa môžu zmeniť bez výslovného upozornenia. Obrázky majú iba informatívny charakter. Bežná cena znamená výrobcom/dodávateľom odporúčaná koncová cena.